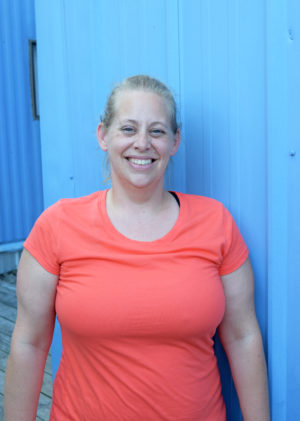 You Give Nurse Kristin a Safe Place to Send Her Kids While She is at Work Treating COVID Patients
"Without the Boys & Girls Club, I wouldn't have been able to do my job over the last year."
As a new graduate nurse working with COVID patients at a Marshall County hospital, Kristin Patterson has been one of the critically important healthcare workers helping our community during the pandemic.
When you support the Club, you ensure that our healthcare professionals can go to work and do their jobs, saving lives, without having to worry about whether their kids have somewhere safe and affordable to go after school.
"I have been working with COVID patients since the pandemic started," Kristin says.
"It is emotionally devastating," she shares.
Kristin spends her shifts hot and uncomfortable in head-to-toe PPE. As a nurse trying to care for patients, "you feel so physically detached," she says. When she gets home from work, she has procedures she follows to protect her husband and two young children. "Nobody touches me, and I go straight to the shower. There are certain things that I do so that my family is safe, and everyone who comes into contact with my family is safe."
Thanks to you, Kristin has had some peace of mind in knowing that her kids are safe and supported at the Club.
Amelia and Elias began attending the Pulaski site at the beginning of the school year, and Kristin loves how the Club provides educational support and builds their confidence.
You Provide Academic Support for Kids during the COVID-19 Pandemic
"My kids love school and they are straight A students, but when virtual learning began, my son was really struggling. He felt like he didn't have to do his work," Kristin shares.
"Bringing them to the Club changed that."
Throughout most of the school year, the Pulaski Club was open 10 hours per day to support students with their virtual learning.
Whenever an entire school or the entire district went remote temporarily, you helped expand our virtual learning hours and keep the Club open all day to make sure kids stayed on track in school.
In the remote learning program, our staff and tutors helped students complete their online assignments and provided academic support. 
Kristin believes that the Club is beneficial for all kids: "My kids are going to a program with their classmates. It's building their friendships, which is a positive thing."
"They WANT to go to the Club. Some mornings they don't want to go to school… EVERY morning they want to go to Boys & Girls Club. They even wish it was open on the weekends."
Kristin believes that interacting with other kids at the Club makes them more caring and compassionate towards others. "All kids need that," she says.
"I love that the Club is focusing heavily on education this summer, to help them catch up. We are giving kids an advantage for next school year." 
Kristin works overnights at the hospital to help provide for her family. Her husband Brian works at Adient, and his shift start time can be anywhere from 3am to 11am – then working as late as 7 o'clock at night.
With her kids at the Club, Kristin can actually get some sleep during the day after working all night, making her a more productive parent once her kids get home in the evening.
If she couldn't send her kids to the Club during the week, Kristin would have to work Friday and Saturday nights, sleeping during the day on weekends, and barely seeing her kids.
Because of the Club, Amelia and Elias still excelled in school this year. "Elias made As and Bs, and Amelia excelled. She got straight As, and on AIMS testing she got the highest scores for Math and Language Arts in her school."
"They wouldn't be where they are today without the Club."
Kristin's message to YOU, our donors: "Our kids deserve every opportunity to succeed and thrive. You are supporting the future of Giles County. These kids are going to be the ones making a difference in our community in 5, 10, 15 years…and they need the resources to do it. Boys & Girls Club provides a lot of those resources and they couldn't do it without YOU. Thank you."
"My family is so thankful that we found the Boys & Girls Club. They are a second family to us."