During Times of Uncertainty, You Give Kids Hope and Opportunity at the Club!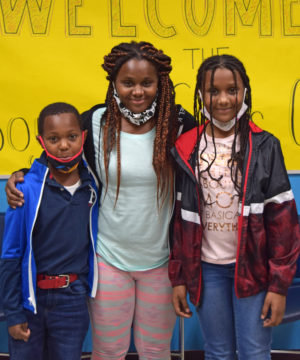 Single mom Jamessya has two kids, Damiya (9) and Tronice (6).  At the beginning of the year, Jamessya was working at Ibex Global in Spring Hill.
Then the pandemic hit, and unfortunately Jamessya lost her job as a result.
You Provide Scholarships for Families Who Have Lost Their Jobs as a Result of the COVID-19 Pandemic
Damiya and Tronice had just begun attending the Club at our Wayne Street Unit.
Thanks to your support, the Club was able to get Jamessya's membership fees covered by a scholarship after she lost her job.
"During the pandemic, it is amazing to have the Club's support," Jamessya says.
Jamessya signed her kids up for the Club because she wanted to give them positive interaction with their peers. Jamessya herself was a Club member at our West 8th Street location when she was a kid, so signing her own kids up was a no-brainer.
You Support Our Kids' Individual Academic Needs through Tutoring
"Damiya really enjoys the tutoring program and getting that one-on-one help," Jamessya says. "She is very smart, but she was struggling in math because she is timid and has a hard time opening up in front of her class in the group setting at school."
At the Club, Damiya gets one-on-one tutoring from our certified tutors, and she is slowly coming out of her shell.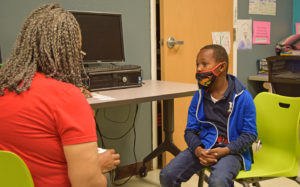 Tronice likes the extracurricular activities at the Club, and his favorite staff member is Ms. Rosetta. Tronice has ADHD, and Ms. Rosetta spends time working patiently with him.
Ms. Rosetta even pointed Jamessya in the right direction to get support for Tronice's ADHD.
Jamessya also loves the tutoring program at the Club, because it makes sure her kids get all of their schoolwork done each day. When Jamessya was working and then trying to help her kids with homework after getting home at 7pm each night, the kids' homework was keeping them up late.
Thanks to YOU, Jamessya doesn't have to worry anymore because she knows her kids are getting the support they need at the Club.
When school resumed this fall, Jamessya signed her kids up for virtual learning.
They are able to attend the Club's virtual learning support program during the day, where Education Director Jesika Ogilvie and our tutors help kids complete their school assignments. Kids in the virtual learning support program also get a free lunch and snack each day, thanks to Maury County Public Schools.
We currently have 18 students enrolled in our virtual learning support program at Wayne Street and are working to expand it.
"According to progress reports, all of the kids in our virtual learning program are currently passing," Education Director Jesika says.
You Help Our Families Get Back On Their Feet and Find New Jobs
Because of you, the Club is also helping Jamessya get a new job. An anonymous Club supporter is helping Jamessya learn about real estate so that she can get a job in his realty office as a receptionist.
"The Club gives single mothers an opportunity to work," Jamessya says. "It is reasonably priced, and it provides opportunities for kids to grow."
Jamessya's message to YOU, our Club supporter:
"Thank you. Your donation and everything you do to support the Club is appreciated. It is a big help to both kids and parents. The Club gives kids hope and opportunity. It gives them a chance to grow and be themselves."