You Give Single Mom Kate a Safe Place to Send Her Kids, Where They Are Supported by Caring Adults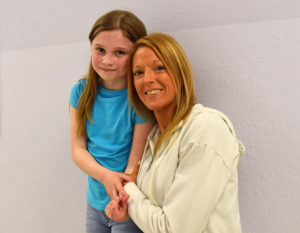 Kate Beck is a single mom raising her two kids, Taylor and Gunnar.
"It's just the three of us," Kate says, smiling.
Her kids have been attending Boys & Girls Clubs since they started Kindergarten. Taylor is currently enrolled in our remote learning program at Wayne Street, and Gunnar attends the Club after school at Woodard Elementary.
As an essential worker, Kate has been able to send her kids to the Club for free for the last year thanks to the state's essential worker childcare contract. When you support the Club, you help working families provide for their kids without having to worry about whether they can afford childcare.
You Provide Extra Support for Our Kids—You Do Whatever It Takes to Help them Succeed!
"Taylor is on the Autism spectrum," Kate shares. "She has a lot of sensory issues, so having her in the remote learning program has been HUGE."
"She started out the school year in person at Whitthorne and it wasn't going well," Kate says.
Then, Club Director Carrika Tellington told her about the Club's remote learning support program.
"It has been a godsend. She's been able to concentrate better in the Club's remote learning program," Kate says.
"Taylor has a lot of trouble with change, and it was a lot of change for her to deal with all at once—she was starting her first year at Whitthorne Middle, and COVID had just hit, and everything was up in the air. She just couldn't get her footing."
YOU give Taylor stability and security at the Club. While schools are forced to pivot back and forth from in-person to remote learning, Kate can count on the Club's remote learning program for consistency, and Taylor knows that Club staff will always be there for her.
"She knows what's going to happen each day, and the staff help her with her sensory issues."
The structure that you give Taylor at the Club is a HUGE help for her as she is learning how to manage change.
"After school, Taylor also gets tutoring at the Club, which has been great for her," Kate says.
Thanks to your support, you also make sure that Taylor's homework is done every day when Kate comes to pick her up after school.
"When Taylor feels overwhelmed or doesn't understand something, she shuts down. Her tutor Ms. Vivian helps her after school to make sure she gets everything done."
Thanks to you, Taylor's grades have improved over the last two quarters!
You Provide Affordable Childcare for Working Families
"Being a single parent, and having the difficulties of finding childcare- the kids staying at the Club after school has been perfect."
Your support provides convenient and affordable childcare for working families and families in need of a little extra support.
Your gift to the Club also provides "security," according to Kate. "They always call me when needed, and they have great people working there. My kids love the staff."
Gunnar's favorite thing about the Club is getting to play and socialize with other kids—which is more important now than ever before to help combat the isolation everyone has been experiencing during COVID-19.
The smaller group sizes at the Club right now are also less overwhelming for Taylor.
Since starting at the Club, Taylor has become more outgoing. "She has her good days and her bad days, and the staff knows how to work with her on her bad days."
"The staff care about Taylor and Gunnar, they really do. They are like a second family."
Kate's message to YOU, our donor: "Thank you! You make it all possible, and without you, we wouldn't be able to do any of this."
Click here to donate now and support kids like Taylor and Gunnar. Your gift today provides convenient and affordable childcare for working families, and families in need of a little extra support.