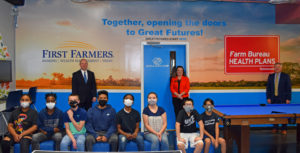 NASHVILLE, Tenn. (Oct. 26, 2020)—Boys & Girls Clubs of Maury County recently unveiled its newly renovated Gamesroom within its Teen Center in Downtown Columbia. The updated space was sponsored by First Farmers and Merchants Bank and Farm Bureau Health Plans.
"The Gamesroom is a really important space in our Teen Center," said Robyn Peery, CEO for Boys & Girls Clubs of Maury County. "We focus a lot on academics, but once our teens finish their homework it is important that they are rewarded by the opportunity to have fun playing in the Gamesroom. A lot of mentoring also happens in the Gamesroom, where our staff members can build positive connections with our teens over a game of pool or ping-pong."
First Farmers and Farm Bureau Health Plans' sponsorship included the addition of new gaming tables such as carpetball for the kids to enjoy and graphics installed by Softspace to highlight the two companies for their contributions. More than 100 young individuals throughout grades 6-12 attend the Teen Center each year. These renovations aim to inspire the youth who walk through the Club's doors each day.
"The words 'Deep Roots' and 'Stable Success' are featured prominently on the walls of the new Gamesroom," said First Farmers' President Brian Williams. "We believe that these words embody the mission of both of our companies, as well as representing what we are trying to build in these young people through the Club."
"We believe strongly in the mission of Boys & Girls Clubs, and we are proud of this partnership between three great local businesses who have come together to invest in our community's next generation of leaders," said Farm Bureau Health Plans' CEO Anthony Kimbrough.
About Boys & Girls Clubs of Maury County
Boys & Girls Clubs of Maury County (BGCMC) is a not-for-profit youth development organization with a mission to "enable all young people, especially those who need us most, to reach their full potential as productive, caring, responsible citizens." BGCMC is a chartered member of Boys & Girls Clubs of America, the oldest and largest youth serving organization in the country, and part of a global network of 4,300 Clubs serving more than 4 million kids annually. BGCMC serves over 1,200 youth per year at 14 locations in Maury and Giles Counties.  The Club provides daily after-school programs for children in grades K-12th and serves youth twelve hours per day on school breaks and all summer long. Programming is targeted around three priority outcome areas for members: 1) Academic Success, 2) Healthy Lifestyles, and 3) Good Character and Citizenship. In 2019, BGCMC was recognized by Boys & Girls Clubs of America as having the #1 Academic Program in the nation.  One-hundred percent of Club seniors have graduated on time since the Club's founding in 1999.
About First Farmers and Merchants Corporation and First Farmers and Merchants Bank
First Farmers and Merchants Corporation is the holding company for First Farmers and Merchants Bank, a community bank serving the Middle Tennessee area through 22 offices in seven Middle Tennessee counties. As of September 30, 2020, First Farmers reported total assets of approximately $1.7 billion, total shareholders' equity of approximately $158 million, and administered trust assets of $5.7 billion. For more information about First Farmers, visit us on the Web at www.myfirstfarmers.com under "Investor Relations."
About Farm Bureau Health Plans
Farm Bureau Health Plans (FBHP) is a Columbia, TN-based company exclusively focused on providing quality, affordable health care coverage for its members. FBHP offers an extensive range of coverage options for both individuals and families, including Traditional Membership Plans, Short Term Care, Medicare Supplement plans, Medicare Part D prescription drug plans, and dental and vision plans.
Farm Bureau Health Plans was founded in 1947 as an affiliated service company of the Tennessee Farm Bureau, and today covers nearly 200,000 lives in TN, making it one of the state's largest health care providers.
###