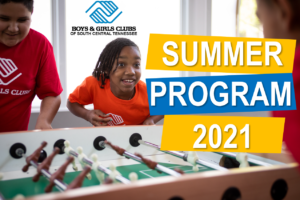 2021 Summer Program Enrollment
Maury County Public Schools is offering students in grades K-7th a four-week summer learning opportunity from June 7th through July 2nd. The S.T.A.R. Summer Camps are designed to help address standards gaps and any negative impacts that COVID-19 has had on learning. Please complete the S.T.A.R. Summer Camps interest survey in English at http://bit.ly/3f6rthU or in Spanish at
http://bit.ly/3tFxhTe
.
This summer, Boys & Girls Clubs will offer "after school" programs until 6pm for all S.T.A.R. camp sites and 1-6pm on Fridays to assist working families and help support the district's academic efforts. Our summer program will include tutoring, hands-on learning and STEM activities, and fun enrichment and social recreation programs. Before program care from 7am to 8am may also be offered at some locations, depending upon demand.
We also plan to offer our normal, all-day summer programs at select locations for students not participating in the district's camps! 
Please note that summer locations, hours by location, and program cost are still being finalized, as we are awaiting final decisions on Maury County Public Schools' S.T.A.R. Summer Camps. Therefore we do not know which sites will be running this summer and how many spots we will have available. Completing the application link above will ensure your name is on the list for summer, but does NOT serve as a guarantee that our BGC program will be offered at a specific location or for specific hours. The application via DocuSign will capture the date and time that you complete your enrollment, should we need to accept members on a first come, first served basis.
DHS Essential Worker Childcare Program
Since last Spring, we have been offering free childcare for the children (under 13) of essential workers. The Emergency Childcare for Essential Services Workers program is funded under a grant contract with the State of Tennessee Department of Human Services. This program was originally scheduled to end on March 31, 2021.
We are excited to share that the DHS Essential Worker Childcare program has now been EXTENDED through 8/31/2021! We will be able to continue providing our programs free for essential workers. It is very important to note that in order to receive these funds through 8/31, the child needs to be enrolled and actively participating before 4/30/2021.
Please click here to complete our 2020/21 school year application
.
If you want to take advantage of our summer programs for FREE under the essential worker childcare program, make sure your child is enrolled and attending the Club before April 30th! As always, scholarship and financial aid will also be available to Club members to ensure that the Club is affordable and accessible for ALL families.