From the Columbia Daily Herald | July 14th, 2017
Boys & Girls Clubs of Maury County have been completing renovations on their downtown teen center for two years.
Central High School has been trying to retire the football jersey of former standout offensive lineman and Boys & Girls Club member Shaq Mason for nearly that long.
The two combined efforts into one ceremony Thursday, with the club hosting the grand opening of its newest facility and Central announcing No. 54 never will be worn by another Lions football player on the gridiron.
The teen center took longer than expected to open fully because the nonprofit looked for in-kind donations and volunteer labor to finish the project rather than use cash. Originally projected to cost $500,000, Boys & Girls Clubs CEO Robyn Peery said the renovation cost "less than half of that."
The retirement of Mason's jersey was imminent after he was an All-American at Georgia Tech. It was just a matter of time after he won a Super Bowl ring last championship with the New England Patriots. Athletic Director Vance Bellew and Mason only had to find a proper venue, considering their busy schedules during football season.
"The story of Shaquille Mason is one of a state champion and an NFL champion, but it did not begin in Foxboro, Mass.," Boys & Girls Club Board Chairman Drew Parker said. "It began here in this community, even in this building many years ago.
"You may not have met Shaq until this evening," Parker said, "but you contributed to his success by supporting the Boys & Girls Club."
Mason's mother, Alicia McGuire, said Shaq attended the Boys & Girls Club from ages 7 to 11. It made a difference in his life, she said, because she had to work every day at a customer-service job in Franklin. She raised Mason as a single mother.
"It gave Shaq a safe place to be after school," McGuire said. "He met friends, and they were good about making sure he finished and understood his homework.
"You know when your child enjoys something because he's always eager to go. He liked the special trips and special attention."
James Martin was director of the club at the time. He was followed by John Stephens, Chris Poynter and Peery.
"Shaq blended well with everyone," McGuire said. "It was a confidence builder. And it helped me a lot. They had a van that picked them up after school and dropped them off at the club."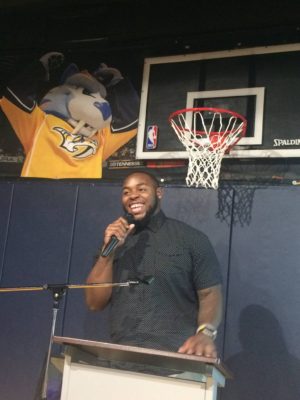 Mason was an all-state player in 2010 at Central for former football coach Bellew. The 6-foot-1-inch, 310-pound guard will be leaving for training camp with the Patriots on July 24, his third season in the NFL.
"It's very fitting that we have this ceremony at the Boys & Girls Club," Bellew said. "It is a high honor for us to honor Shaq here.
"Shaq has a long list of accomplishments. State champion, All-American, starting guard for the Patriots and Super Bowl champion are among them. But I can sum up his greatest achievement by saying he's the same humble, giving and loving young man his Mom raised him to be."
Mason, the Boys & Girls Club, and Central High School all received framed jerseys. They will be on display at the club and in the high school's trophy case.
"You all know I don't talk much in public, but I appreciate it very much," Mason said. "It's the result of hard work and determination, and it started a long time before I started playing football."
The teen center serves Maury County students between the ages of 13-18. The renovations took it from being a dreary, 77-year-old building to a modern club where teens want to gather and learn. It includes a game room, computer room, music room and kitchen.
"We designed it with input from the kids, on what would be inspiring to them," Peery said.
Besides thanking Mason, the Boys & Girls Club expressed appreciation to sponsors who made the teen center a reality. Those companies included room sponsors First Tennessee Bank, Kiwanis Club of Columbia, Fleming, Flynn & Murphy, Nashville Predators, Columbia Power, Lucas Chevrolet, First Presbyterian Church, and Cowboy Up.
Others earning special recognition were Lowe's Home Improvement, which provided a $50,000 grant, volunteer project manager Dan Garman of Village Roofing, volunteer general contractor Jim Janowiak of Harris Building Group, SoftSpace and A to Z Office Resource.
"It's safe to say we would not be here without them," Peery said.