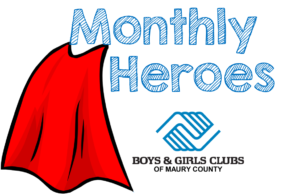 Want to become one of our Monthly Heroes? Click here to download and complete the Monthly Heroes pledge form, then return the form by mail (210 W. 8th St. Columbia, TN 38401) or email to llaporte@bgcmaury.org. Your information will be kept secure. You may also use the online donation page to set up monthly bank drafts.
By becoming a Monthly Hero, you will provide consistent, sustaining support to the Club and ensure Great Futures for more than 1,200 kids per year. Want to learn more about our Monthly Heroes program? Call Lauren La Porte at (931) 490-9401 ext.2606 for more information.
If you have any issues setting up your donation online, please call (931)490-9401 ext.2606 and we will assist you as soon as possible.