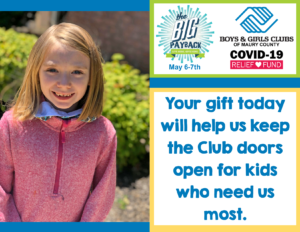 The Big Payback is here!
When you give today, as part of our community's 24 hours of giving back, you help keep the Club doors open for kids who need us most.
When you support the Club, you make it possible for us to do whatever it takes to put our community's kids on the path to great futures.
Your gift today will allow us to
Provide free childcare to essential workers at our Baker temporary site, in partnership with the TN Department of Human Services
Partner with Maury County Public Schools to ensure kids like Evelynn (pictured above) at our Baker site get a free breakfast and lunch each day
Re-open Club doors to our kids for our 2020 Summer Program, beginning May 26th
Open the Club doors by donating TODAY!
Thank you for believing in our kids,

Robyn Peery
Chief Executive Officer