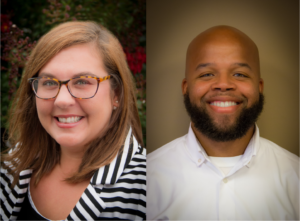 Boys & Girls Clubs of Maury County has hired Pierre Covington as its new Chief Operations Officer, following the retirement of former COO Rick Fisher. Pierre joined the Club in July 2016 and served as the Spring Hill Unit Director for one year. As Spring Hill Unit Director, Pierre and his team built a strong program and significantly grew Club enrollment in Spring Hill. A graduate of Austin Peay State University, Pierre was named COO after a nationwide search was conducted to fill the position. Before joining Boys & Girls Clubs of Maury County, Pierre worked in loans and mortgages for Suntrust Bank. As COO, he hopes to continue to support Club staff and further expand the Club's capacity to serve more youth in Maury County.
The Club has also hired Ashley Whiteside as its Director of Special Events & Corporate Relations. Born and raised in Maury County, Ashley is a graduate of Columbia Central High School. She is married to Jeffrey Whiteside and together they have two children. Ashley comes to the Club with seventeen years of experience in banking. Most recently, she was Branch Manager for TriStar Bank. Ashley is a member of Kiwanis Club of Columbia and is also a Board member for the Maury County Chamber and Economic Alliance. Ashley was part of the Leadership Maury Class of 2011-2012. She enjoys spending time with her family and serving her community, and is excited to join the Boys & Girls Club team.
Ashley is currently working on the Club's biggest fundraiser of the year, the 2017 Dream Makers Dinner & Auction. Presented by First Farmers Bank, this year's event is scheduled for Friday, August 25th from 5:30-8:30pm in the upstairs event space at Puckett's Downtown Columbia. The Uggla Family will be honored as this year's recipient of the Ora J. Thompson Service Award. Tables for ten adults are available at $2,000 each, and individual seats are $200 per person. This event has sold out for the last three years, so call Ashley to get your ticket TODAY!
Ashley Whiteside can be reached at (931)490-9401 ext.2604, and Pierre Covington can be reached at (931)490-9401 ext.2621.