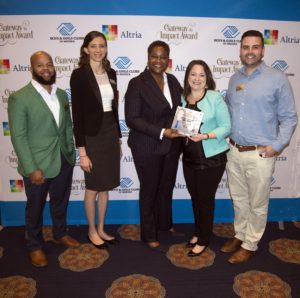 Columbia, Tenn. – After tripling the number of youth served in the last 24 months, Boys & Girls Clubs of Maury County was honored on Feb. 21 during Boys & Girls Clubs of America's Southeast Leadership Conference in Atlanta, Ga. The prestigious 'Gateway To Impact' award recognizes Clubs who've significantly increased attendance, factoring in both daily and annual participation as well as overall performance. Boys & Girls Clubs of Maury County took home the top honor for the entire thirteen-state southeast region of Boys & Girls Clubs of America.
"It was thrilling to be recognized by BGCA for all the long hours our staff and Board of Directors put in to ensure the expansions of 2016 and 2017 were successful," said Robyn Peery, CEO, BGC Maury. "As we've opened locations in more urban and rural communities like Spring Hill and Pulaski, we've seen firsthand how every child can benefit from the Clubs' exceptional, life-changing programming. By building good character and citizenship, healthy lifestyles, and driving academic success, we have helped countless kids not only graduate on time, but become responsible, caring adults who achieve their goals."
Late last year, BGC Maury expanded its operation to include a Giles County location in Pulaski – a reality made possible through a generous, one-time BGCA grant. The Pulaski Club opened its doors in December 2017 and currently serves nearly 20 students each day. Prior to that, BGC Maury reached a Memorandum of Understanding in May 2016 with Maury County Public Schools to serve as its before and after school care provider. At the time, Club leadership had just three months to adequately staff and prepare for the influx in membership, opening 11 new "Greatness Academy" locations prior to the start of the 2016/2017 school year on Aug. 1. Today, BGC Maury operates 12 locations in addition to maintaining its flagship Teen Center and Wayne Street facilities in Columbia. More than 800 youth are currently enrolled in Boys & Girls Clubs of Maury County, an astonishing 200 percent increase since 2015.
"We have barely begun to scratch the surface," said Peery. "In Maury County alone, nearly 4,000 kids live at or below the poverty line – and, even though we've expanded our membership to include families of every income level and makeup, 72 percent of kids under our care receive assistance with their Club dues. This is why the community's continued support is especially critical as we work to ensure that every child has a Boys & Girls Club to call home."
The Club's mission is to enable all young people, especially those who need us most, to reach their full potential as productive, caring, responsible citizens. For more information about Boys & Girls Clubs of Maury County programs or its "Greatness Academies," click here.
Pictured above from left to right accepting the Gateway To Impact award is BGC Maury Chief Operations Officer Pierre Covington, Resource Development Director Lauren La Porte, Boys & Girls Clubs of America COO Lorraine Orr, BGC Maury CEO Robyn Peery and Director of Programs/Spring Hill Unit Director Josh Campbell.
# # #