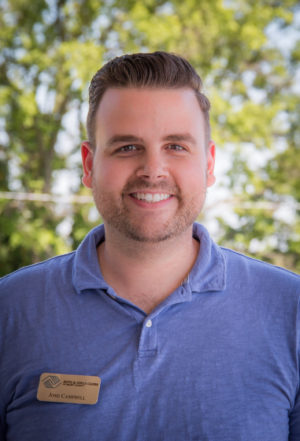 Josh Campbell has over 15 years of experience in the Boys & Girls Club Movement, having worked for four different Boys & Girls Club organizations. He began his career as a summer camp counselor for Boys & Girls Clubs of Greater Kalamazoo in Michigan. In 2006, he moved to Oahu to attend Hawaii Pacific University and while there worked with Boys & Girls Clubs of Hawaii. During the summer months he returned to the Boys & Girls Club summer camp in Michigan to serve as the assistant director. In 2008, Josh became the Director of Community Outreach and Environmental Education for the Kalamazoo Club. He remained in that position for seven years before taking over operations of Boys & Girls Clubs of the Big Island (Hawaii) in January of 2015. As Director of Operations for the Big Island, he oversaw seven Clubhouses serving more than 2,500 kids.
Josh joined the Boys & Girls Clubs of Maury County team as Director of Program Quality/Spring Hill Unit Director in 2017, after he and his wife relocated to Nashville.  Shortly thereafter he was selected to serve as one of Nashville Afterschool Zone Alliance's Fellows. For this Josh was trained, tested, and certified as an External Assessor of Youth Program Quality through the David P. Weikart Center for Youth Program Quality. In 2018, Josh was certified as a Youth Work Methods Trainer by the Forum for Youth Investment and the Weikart Center. In 2019, Josh was certified as a Tier 1 National Training Associate by Boys & Girls Clubs of America.
Over the course of the last two years, Josh has used his background and extensive training in program quality to standardize the organization's programming and increase quality across all fifteen Club sites.
We are excited to announce Josh as our new Chief Operations Officer!
"I am confident he will do an amazing job leading our program and operations teams to ensure we deliver a world-class Club experience for our kids and families every day," says Chief Executive Officer Robyn Peery.